If you don't know, know you'll know. The frittata is basically one of THE greatest foods. EVER. It's so quick to make, easy, inexpensive, and it's also the perfect vehicle for leftovers—not to mention that it's equally delicious at breakfast, lunch, and dinner. My Leftovers Frittata is crazy versatile and highly customizable. With my formula and my tips and tricks, I can guarantee this will be a staple food in your house in no time. It's as great for simple weekly meal prep as it is an impressive option when you host brunch.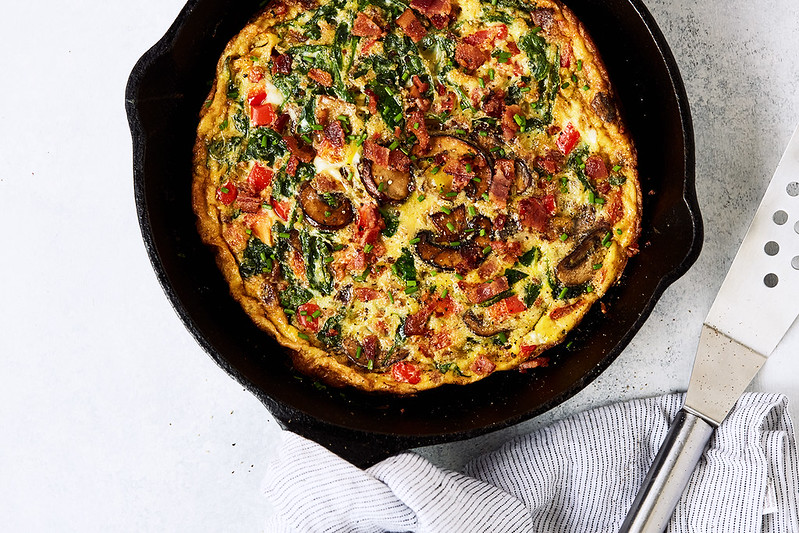 Frittatas are omelette meets crustless quiche made from eggs and any other ingredients and seasonings that you want to add. With all the possibilities on this Leftovers Frittata recipe, you'll never ever get bored and with my easy method and simple tips, you'll become a leftovers frittata pro in no time.
The versatility of a leftovers frittata makes it a must for your weekly meal planning and meal prep. It can be eaten cold, room temperature or steamy warm and the possibilities for the add-ins are truly endless and you guys know how I feel about recipes that offer you tons of wiggle room to get creative and to make it work for you and your needs. I find when I make a weekend brunch frittata or even just the frittatas I make as meal prep for the week - they are always an amazing opportunity to do a little fridge clean-out and to use up some of those leftovers that have become stragglers.
Listen though, we need to have a little talk. A poorly-made frittata is just a straight-up tragedy. We've all had a less-than-stellar frittata. You know the ones; spongey, flavorless, bland and dry. I want to make sure you avoid this horrible fate, because no one should ever have to endure this – I wouldn't wish this on my worst enemy.
...
The post How-to Make the Perfect Leftovers Frittata. Great for Brunch or Meal Prep. appeared first on Tasty Yummies.